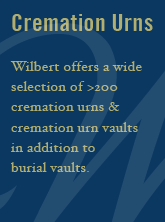 Personalization
Wilbert offers multiple ways to personalize a burial vault or urn vault with words, symbols, and images that speak of a singular spirit. Your loved one had a unique personality. The selections you make for the visitation and service should communicate that singular spirit. These choices ensure your loved one's memory is remembered for generations to come.

Omaha Wilbert Vaults is looking to hire individuals with a good driving record, physically fit and likes outside work (rain,snow or shine)

We manufacture burial vaults as well as deliver them, so some concrete work is involved.

We are also looking for an individual to take a position in our Paws & Remember division.

Must have a valid drivers license.
We offer health and dental and a 401K plan.

Starting at an hourly wage of $12

Please send resumes' to jelmore2@cox.net