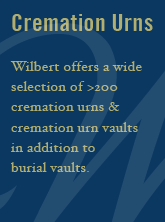 Personalization
Wilbert offers multiple ways to personalize a burial vault or urn vault with words, symbols, and images that speak of a singular spirit. Your loved one had a unique personality. The selections you make for the visitation and service should communicate that singular spirit. These choices ensure your loved one's memory is remembered for generations to come.
History of Omaha Wilbert Vaults
Omaha Wilbert Vault was originally founded in
1976
by Jack Roland of Roland-Wilbert in Marion, IA. In
1999,
Mr. Roland sold this businesss to his employee and friend, Buck Elmore. Today, Omaha Wilbert is owned and managed by Buck's son and daughter, Jason Elmore and Kelli Nobiling. Jason serves as President of the company managing production and delivery, and also serves on the Board of
Wilbert Manufacturers Association (WMA)
. Kelli serves as Vice President and is responsible for office management and marketing for the business. Employing 16 people, Omaha Wilbert consists of a burial vault manufacturing plant and
three crematories
.
Omaha Wilbert is certified by the
National Concrete Burial Vault Association (NCBVA)
. Dave Brugger with NCBVA stated that "The Omaha Wilbert plant is spotless and well cared-for."
Crematories
Elmore crematory installed its first machine in 1983. We now have 3 crematories which allow our customers to pick up the remains the next morning, except on Sunday. The crematory
services all the same counties
as we do with vaults.
Paws & Remember of Nebraska
In addition, to owning and managing the Omaha Wilbert Vualt business, Jason and Kelli purchased the
Paws & Remember of Nebraska pet cremation
franchise in 2008. Paws & Remeber of Nebraska serves as a key partner to veterinarians in Nebraska. They strive to provide grieving families with the support they need after the loss of a pet.
Omaha Wilbert Vaults Location
2660 Gomez Ave. • Omaha, NE 68107 • 402-731-1452